Tiger Theatricals produces theater on Broadway, Off-Broadway, on-the-road, in the US and abroad. Also, produces events and integrated marketing services for theater, corporations, businesses and non-profit organizations. Dan Whitten is President of Tiger Theatricals. Click here to view his bio.
TIGER NEWS
CRITICS PICK TIMEOUT NEW YORK
JACQUES BREL RETURNS-THE MUSIC OF BREL, BLAU, SHUMAN & JOUANNEST
OUR 6TH YEAR at the Triad

158 W. 72nd St. NYC
Wednesday, January 13th 7pm
Welcome Guest Artist Alexis Fishman!

"A must see evening!...wry humor and piercing emotion"
Elizabeth Ahlfors, Cabaret Scenes Magazine

All Tickets $30
Tickets on sale now
www.triadnyc.com
or
888-596-1027

ERENI SEVASTI will be joined by Alexis Fishman
'Native Australian Alexis Fishman Named
Next Broadway Sensation by New York Music Theatre Festival'
(www.alexisfishman.com) and other performers from our rotating cast will be announced soon
ERENI SEVASTI SINGS
JONI MITCHELL
A packed house and standing ovation for Ereni last week.
Stay tuned for future dates!
"Through stories and song Sevasti lets you into the creative genius of Joni Mitchell. She will mesmerize you with her talent...
not to be missed!"

Times Square Chronicles



Save the date: Saturday, July 18th at 8pm and Sunday July19th at Noon
WHERE ALL THE RIVERS
GO TO SLEEP
A New jazz/blues Musical by Gelber and Manning
CONCERT VERSION with 12 piece orchestra at NYMF - cast includes:
Jacqueline Antaramian, Carole J. Bufford, Ann McCormack, Damian Norfleet, Kenny Brawner, David Eiduks, Michael Lanning, Ryan Clardy, Erika Peterson, Mariah MacFarlane, Amanda Castanos
July 18th at 8pm and 19th at Noon
PTC Performance Space 555 w 42nd st
for tickets and info: www.nymf.org
Tuesday, July 7th
3rd Annual Fresh
Comedy Night
Featuring:
Vince August, Jon Rudnitsky, Aja Nisenson, Kenny Garcia, Mike Vecchione, Dan Soder, Michael Lanning
www.stage72.com for tickets
RECENT PRESS
Get a French Kiss from "Jacques Brel" on Valentine's Day
Broadwayworld.com

Cabaret Scenes Review!
JACQUES BREL RETURNS to Play Triad w/ Cuccioli, Diaz, Stanek & More... read more
Dan Whitten featured
on Broadway Blogspot
ENTER LAUGHING coming to BROADWAY!
www.enterlaughingthemusical.com
Click on the links to read more
'Laughing' all the way to Broadway
"Enter Laughing" Looks to be Broadway Bound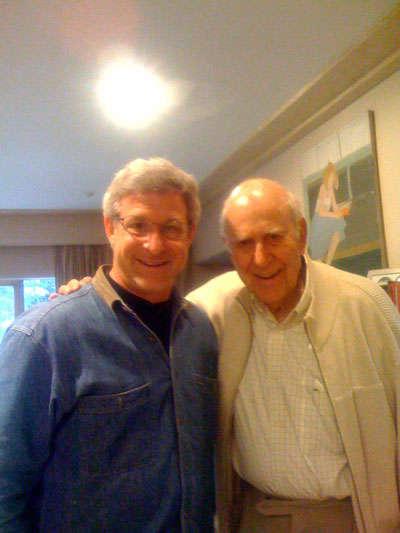 Dan with Carl Reiner
JAY JOHNSON: THE TWO & ONLY, WINS TONY FOR BEST SPECIAL THEATRICAL EVENT
Dan Whitten wins a 2007 Tony Award for producing The Two & Only in the "Best Theatrical Event Category".The show's national tour will be at Princeton's McCarter Theatre, Friday, February 25th and SOPAC in South Orange, NJ, Saturday January 26th.
READ MORE...
T-INK LAUNCHES MUSICAL T-SHIRTS
Showstoppers Musical T-Shirts and Apparel, launched at The League of American Theater Producers Road Event in NYC, May 2007. With the touch of a finger, and the magic of T-ink technology, Showstoppers Musical T-Shirts magically "sing" hits from Broadway Shows. Dan Whitten, President of Tiger Theatricals, heads the SHOWSTOPPERS division at T-ink.
READ MORE...