Tiger Theatricals produces theater on Broadway, Off-Broadway, on-the-road, in the US and abroad. Also, produces events and integrated marketing services for theater, corporations, businesses and non-profit organizations. Dan Whitten is President of Tiger Theatricals. Click here to view his bio.
TIGER NEWS
Tickets now on sale for
Search:Paul Clayton...The Man Who Loved Bob Dylan
returns to the Triad, NYC
May 6th-21st
Written by Larry Mollin
Music Director Fred Mollin
Directed by Randy Myler
A hit on Martha's Vineyard last summer:
"Playwright Larry Mollin has opened a lost passageway for boomers, to a time that both liberated and frightened the stuffing out of us."
The Martha's Vineyard Times
Opening May 6 at The Triad Theatre with Peter Oyloe as Paul Clayton, Jared Weiss as Bob Dylan, Ereni Sevasti as Joan Baez, Jaime Babbit as Carla Rotolo, Allan Harris as the Rev. Gary Davis, Michael Lanning as Dave Van Ronk
Tickets/Info on sale at 1800 838 3006 or
ERENI SEVASTI SINGS
JONI MITCHELL
STEPPING OUT OF BLUE

Jacques Brel Returns star Ereni Sevasti sings
the songs of Joni Mitchell.

Two Shows: Thursday, March 26th at 7pm & Sunday,
March 29th at 5pm

Focusing on the Blue Album, this special evening also
features other Joni tunes with songs of the folk music era
and a bit of story telling.
SAVE THE DATE
SEARCH:
PAUL CLAYTON
The true story in words and song of Bob Dylan's musical mentor
Written by Larry Mollin
Directed by Randal Myler

fresh from a succesful run on Martha's Vineyard this summer
Tiger Theatricals in Association with Abrams Artists present

A STAGED READING
December 4th and 5th at 2pm
The Triad Theatre
158 W 72nd St NYC

"Playwright Larry Mollin has opened a lost passageway for boomers, to a time that both liberated and frightened the stuffing out of us"
The Martha's Vineyard Times

Cast will be announced soon


For reservations, inquiries please email info@tigertheatricals.com
visit us on Facebook
Jacques Brel Returns
...the music of Brel, Blau, Shuman and Jouannest en Cabaret
To the The Triad!!
158 West 72nd Street

Wednesday, October 8th, 7pm
Wednesday, December 17th, 7pm
Our 5th year at The Triad
158 w. 72nd St NYC

CAST includes:
Arlo Hill, Ereni Sevasti, Sam Ludwig
Musical Director Rick Hip-Flores
& The Amy Marshall Dance Co.
General Admission: $30
Premium Seating: $40
use code triad15 for 50% off Gen Adm tix)
Get tickets here:
http://m.bpt.me/event/675362
or
http://stage72.com/jacques-brel-returns-the-music-of-brel-blau-shuman-jouannest-en-cabaret/
or call 1800 838-3006

Please note: TriadNYC requires a 2 drink cash minimum per person.
THREE EASY WAYS TO BUY:
ONLINE: Visit jacquesbrel.brownpapertickets.com
Pour acheter vos billets en franšais, cliquez ici
IN PERSON: Print out a copy of this offer and visit The Triad Theatre- 158 West 72nd Street between Columbus and Amsterdam
JACQUES BREL RETURNS HOTLINE: (800) 838-3006
Pick-up tickets 1 hour before curtain the day of performance at the Triad.
Triad box office opens 1 hour prior to performance.
The Tony Award winning
Jay Johnson:The Two and Only is now a Film


Available this month on Demand TV.
"A Knock-em-dead show!" The NY Times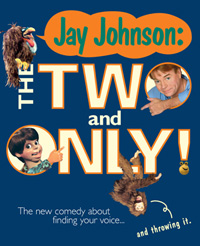 from our BREL cast:
ARLO HILL
(SUNDAY, JUNE 9TH 6PM)
debuts his one man Frank Loesser show
ASKING for TROUBLE
at the Triad
FOR TICKETS AND INFO:
WWW.ARLOHILL.COM
ARLO'S SHOW WILL BE FOLLOWED
BY A LIVE TONY TELECAST
hosted by yours truly and a co host to be announced soon.
CONGRATULATIONS TO MARISSA MULDER
ON WINNING THE JULIE WILSON
CABARET AWARD!
Marissa will be bringing her Tom Waits show to
The Triad this September
SEE www.marissamulder.com for details
FAT SELFISH B#STARD
...ADMISSIONS OF A FOOD ADDICT
at THE TRIAD
a comedy by Michael Magenta,
former Weight Watcher's instructor
and Catholic U. Theatre Grad
Directed by Dan Whitten
SATURDAY JUNE 29 TWO SHOWS!
2pm and 7pm
show runs 75 minutes
$25 PREMIUM TICKETS
$15 GENERAL ADMISSION
(2 drink minimum)
For TICKETS and info go to http://www.brownpapertickets.com/event/312347
or call 1 800 8383006
SAVE THE DATE-AUGUST 15TH
FRESH COMEDY NIGHT AT THE TRIAD
FEATURING 5-6 FRESH,
YOUNG (AND NOT SO YOUNG) COMICS
COMING in SEPTEMBER
JENNY LYN BADER'S
NONE OF THE ABOVE
Featuring Arlo Hill and Samantha Massell
at The Triad
RECENT PRESS
Get a French Kiss from "Jacques Brel" on Valentine's Day
Broadwayworld.com

Cabaret Scenes Review!
JACQUES BREL RETURNS to Play Triad w/ Cuccioli, Diaz, Stanek & More... read more
Dan Whitten featured
on Broadway Blogspot
ENTER LAUGHING coming to BROADWAY!
www.enterlaughingthemusical.com
Click on the links to read more
'Laughing' all the way to Broadway
"Enter Laughing" Looks to be Broadway Bound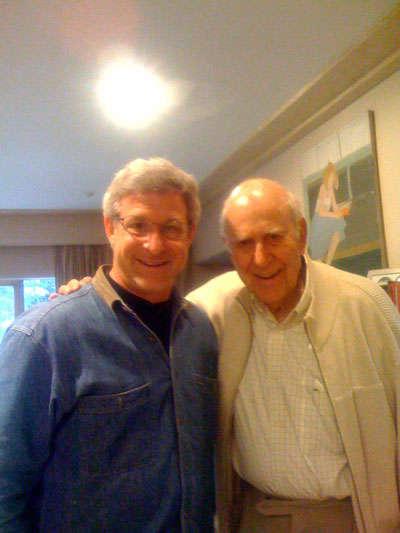 Dan with Carl Reiner
JAY JOHNSON: THE TWO & ONLY, WINS TONY FOR BEST SPECIAL THEATRICAL EVENT
Dan Whitten wins a 2007 Tony Award for producing The Two & Only in the "Best Theatrical Event Category".The show's national tour will be at Princeton's McCarter Theatre, Friday, February 25th and SOPAC in South Orange, NJ, Saturday January 26th.
READ MORE...
T-INK LAUNCHES MUSICAL T-SHIRTS
Showstoppers Musical T-Shirts and Apparel, launched at The League of American Theater Producers Road Event in NYC, May 2007. With the touch of a finger, and the magic of T-ink technology, Showstoppers Musical T-Shirts magically "sing" hits from Broadway Shows. Dan Whitten, President of Tiger Theatricals, heads the SHOWSTOPPERS division at T-ink.
READ MORE...